Live Satellite TV Interview with Olympic Swimming Champion Amanda Beard & Safe Kids USA
University of Arizona Aquatic Center, Tucson, Arizona— July 6, 2011
Seven-time Olympic medalist Amanda Beard, who is hoping to compete in the 100- and 200-meter breast stroke events in the 2012 Olympics, is a firm believer in teaching children to swim at a young age. Beard attended "Mommy and Me" swim classes with her mother when she was 6 months old. She grew to enjoy the water and swimming so much that by the time she was 10 years old, she had already made up her mind that she wanted to be an Olympic swimmer.
Beard started acquainting their now 22-month-old son, Blaise, with the water in their backyard pool when he was 4 months old. He began taking swimming lessons at 6 months, and today he enjoys swimming 3-4 times a week.
According to Safe Kids USA, the statistics on pool deaths are startling:
Drowning is the leading cause of death among children ages 1 to 4.
Approximately 750 children ages 14 and under die each year in the U.S. due to an unintentional drowning. In addition, on average, there are an estimated 5,016 children injured due to near-drowning incidents.
Home swimming pools are the most common site for a drowning to occur with a child under 5 years of age. Although 90 percent of parents say they supervise their children while swimming, many acknowledge that they engage in other distracting activities at the same time – talking, eating, reading or taking care of another child. In fact, a parent or caregiver claimed to be supervising the child in nearly 9 out of 10 drowning-related deaths.
From 1999 - 2009, 94 reports of pool/spa circulation entrapment including 12 fatalities and 79 injuries occurred in in the United States. Entrapment can happen when a child gets too close to a drain and becomes trapped underwater.
In the summer, between May and August, drowning deaths among children increase 89 percent when compared to the rest of the year.
About Amanda

Seven-time Olympic medalist (two gold, four silver, one bronze).
Four Olympics (Atlanta'96, Sydney'00, Athens '04, Beijing '08).
First Olympic appearance at the 1996 Atlanta Olympic Games at the age of 14
The second-youngest Olympic medalist in American swimming history when she won three medals in Atlanta—one gold and two silver.
If she qualifies for London 2012 - she'll become the second five-time U.S. Swim Olympian.
She is a former world record holder in the 200-meter breaststroke (long course).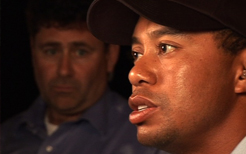 Tiger Woods Hosts His First-Ever Web Chat
Consumers in greater DC, South Florida, Illinois, Houston, Minnesota, Sacramento, San Francisco & Long Island chat with Tiger Live, during the first-ever "Tiger Web Talkback."
Learn more »