JUSTIN TUCK'S STAR STUDDED CELEBRITY BILLIARDS TOURNAMENT BENEFITS A "R.U.S.H. FOR LITERACY!"
June 2011, New York, NY: Iconic athletes, actors, models, and fans all "cued up" in the Big Apple on a cool spring evening to support New York Giants All-Pro Justin Tuck for his third annual Celebrity Billiards Tournament which benefits R.U.S.H for Literacy.

R.U.S.H. for Literacy is a charity which was founded by the football star and his wife Lauren in 2008 which encourages and inspires children and teens in New York City and Justin's home state of Alabama to read and continue their education.

Football fans know Justin Tuck for "rushing" opposing quarterbacks on the gridiron - Justin and Lauran chose the acronym R.U.S.H. to represent "Read, Understand, Succeed, and Hope."
NIKE UNVEILS NEW INNOVATIVE NFL UNIFORMS!
Players from All 32 NFL Teams Model New Nike Uniforms. Nike, the new uniform supplier of the National Football League, unveiled its highly anticipated new and innovative Nike Elite 51 Uniforms in New York City.
Learn more »
Stars Celebrate Muhammad Ali's 70th Birthday in Las Vegas at Keep Memory Alive's Annual "Power of Love Gala" Fundraiser
Event Honored "The Greatest of All Time" at Fundraiser for the Cleveland Clinic Lou Ruvo Center for Brain Health and the Muhammad Ali Center
Learn more »
NFL Honors: Carolina Panthers QB Cam Newton wins Pepsi Rookie of the Year Awards
The Associated Press named Carolina Panthers quarterback Cam Newton the Pepsi Offensive Rookie of the Year in Indianapolis at the league's "NFL Honors" banquet. He also was named the league's Pepsi rookie of the year in a vote of the fans.
Learn more »
Michael Jordan 10th Annual Celebrity Invitational Golf Tournament
Iconic athletes, actors, comedians, and entertainers were on the links for the 10th Annual Michael Jordan Celebrity Invitational Tournament (MJCI). This is the first time the MJCI was held in Las Vegas.
Learn more »
NBA Star Brandon Jennings Returns Home to Give Back to His Community and Get Kids Back On the Court
Milwaukee Bucks' Brandon Jennings unveils renovated basketball court for local youth in his Hometown to "Tip Off" NBA All-Star weekend in Los Angeles.
Learn more »
The Return of the New York Cosmos!
In a surprise announcement at the Copa NYC finals, soccer icon and former Cosmos star Pele announced that the beloved New York Cosmos will return to the pitch.
Learn more »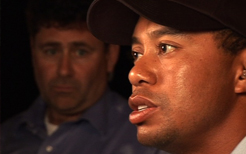 Tiger Woods Hosts His First-Ever Web Chat
Consumers in greater DC, South Florida, Illinois, Houston, Minnesota, Sacramento, San Francisco & Long Island chat with Tiger Live, during the first-ever "Tiger Web Talkback."
Learn more »
Laureus World Sports Award
Celebrities and athletes support nine winners honored by prestigious Laureus World Sports Academy of Legends at World Sports Awards in Monte Carlo.
Learn more »